Better hearing and a better quality of life can be yours for many years with the help of the right hearing professional. At Colonial Center for Hearing Audiology, we pride ourselves on developing long-term relationships with our patients. Relationships based on unsurpassed personal service that begins the first time you walk through our doors and continues long after your initial appointment.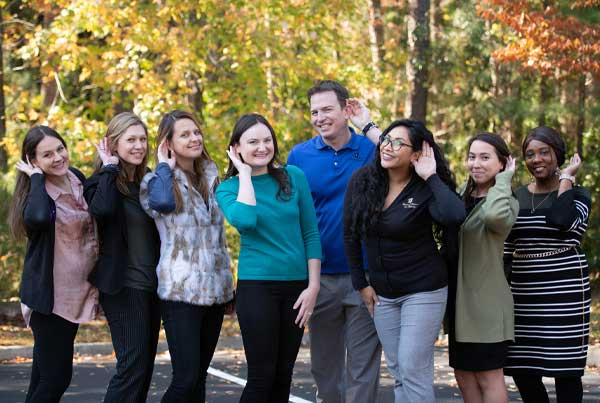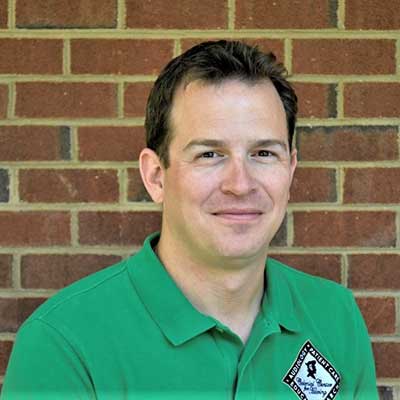 Jude Liptak, Au.D.
Doctor of Audiology
Colonial Center for Hearing's founder and patient care award winning Director of Audiology, Dr. Jude Liptak, holds an Audiology Doctorate degree from Salus University in Philadelphia. He finished his graduate studies at Kent State University in Ohio, where he graduated Magma Cum Laude. He is a Fellow of American Academy of Audiology.
Read Full Bio
Dr. Liptak has been practicing Audiology since the year 2000 and opened his private practice in Williamsburg in 2003. As a Board Certified Audiologist and an expert in his field he has since helped thousands of people rediscover the joys of healthy hearing.
Jude loves sports and spends most of his free time coaching his sons' ice hockey teams. He is very active in the community, as well as in the hearing world. He serves on several advisory boards for youth development programs and hearing industry innovations groups. He is an active member and Eucharistic Minister at St. Olaf's Catholic Church. Jude and his wife have passed down their love for travel and adventure to their sons and as a family they love to explore destinations and cultures near and far.
Jude Liptak, Au.D. on LinkedIn
Jude Liptak featured in Health Journal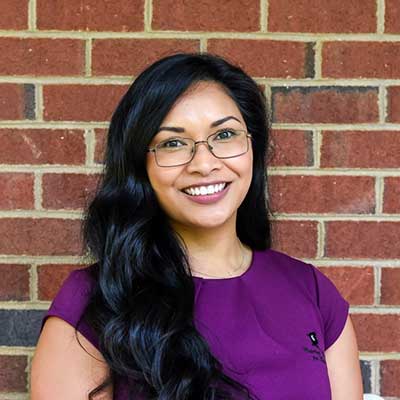 Bethany Tucker Au.D.
Doctor of Audiology
Dr. Bethany Tucker became interested in the speech and hearing field after shadowing her own childhood speech pathologist while in high school. She went on to study at James Madison University where she graduated Magna cum Laude earning a Bachelor of Science degree in Communication Sciences. She then continued her education at JMU as the first Junior in the country to be accepted early to an accredited Doctor of Audiology program.
Read Full Bio
After completing her externship at the Virginia Commonwealth University Medical Center and graduating with her doctorate (Summa cum Laude), Dr. Tucker practiced Audiology in St. Petersburg, FL. She returned to Virginia to join Colonial Center for Hearing in March 2014. 
Dr. Tucker was born in the Philippines. She was adopted by an American family as an infant and raised in the Richmond area. She is happy to be living close to her family again, in an area that carries happy memories and is so rich in history. You can often find Bethany and her family on walks around Colonial Williamsburg and attending 2nd Sundays. She is also an avid reader and enjoys monthly book club meetings with her childhood friends. In her free time, Dr. Tucker loves exploring new areas and traveling with her family.
Dr. Tucker is a Board Certified Audiologist and holds her accreditation by the American Speech-Language-Hearing Association. She has experience providing hearing aid services and aural rehabilitation to patients of all ages. Audiology allows her to connect with people and help reconnect her patients with their loved ones.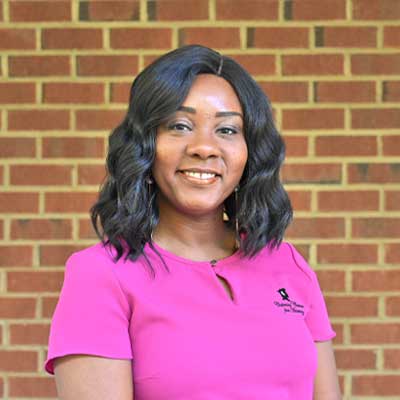 Deidra Boyd
Vertigo Technician
Deidra has been working for Colonial Center for Hearing and Vertigo Dizzy Clinic since the summer of 2019. Prior to that she has worked at a Veterinary Clinic as an Administration Assistant for 12 years.
Read Full Bio
Deidra enjoyed working with animals; however, she felt her passion to help people wasn't completely fulfilled. Through on and off-site training, she quickly learned that being a vertigo technician is the perfect fit and a great career path for her.
Deidra's compassion, patience and dedication to her patients have been very impressive. Helping diagnose and treat vertigo patients has been her number one priority. She is currently pursuing her Audiology Assistant certification.
Deidra is married and has three children. During her spare time, Deidra enjoys spending time with her family and friends. She loves to go swimming, traveling and meeting new people. If you're feeling dizzy or unstable please come and see Deidra so she can do a battery of vertigo diagnostic tests on you.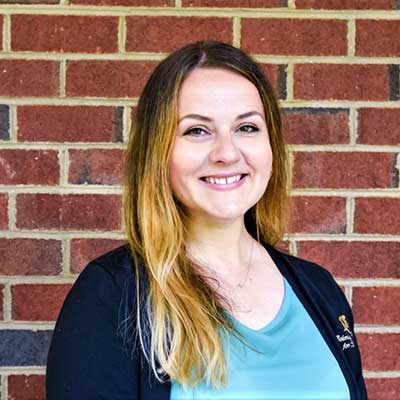 Dasha Nyberg
Patient Care Coordinator
Dasha, who is originally from Slovakia, joined our Colonial Center for Hearing family in 2010. After finishing her double Master's degree in Management of Culture and Tourism & English Language and Literature, she moved to Williamsburg in 2006 for her internship in hospitality, which later turned to a full-time position.
Read Full Bio
After 4 years of working in the hospitality field, when the opportunity to switch careers arose, she decided to start her journey with Colonial Center for Hearing. Dasha is very knowledgeable in hearing aid cleaning and maintenance and always happy to assist patients by phone or in person, and her attention to detail has made her a very valuable part of the clinic's administration. She oversees daily financial activities and facilitates communication with third-party benefit providers.
Dasha and her husband Michael love spending time outside with their two children and a dog. The best topics for conversation with her are literature, fiction as well as non-fiction, and music from all over the world. She also enjoys traveling and trying different types of workouts.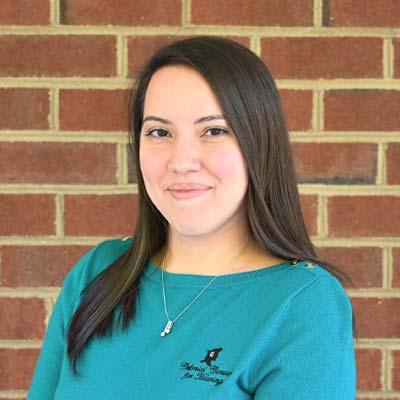 Tasha Hassett
Patient Care Coordinator
Tasha joined the Colonial Center For Hearing family in September 2021 after 14 years in the banking industry. Tasha was born and raised on Long Island, New York, and has made Williamsburg, Virginia, her home following her husband's retirement from the United States Army.
Read Full Bio
Tasha has a Bachelor's degree in Business Management from Saint Leo University, where she graduated Summa Cum Laude. She has served many roles within the financial sector, including manager, Property & Casualty Insurance Agent, and project lead. Her desire to feel more fulfilled in her career and her love for people ultimately brought her to Colonial Center For Hearing.
When not at the office, you can find Tasha supporting her husband and two daughters at the local dojo, where they practice the Indonesian martial art, Pencak Silat. You'll also find her playing with her youngest and biggest baby, her 130 lb. English Mastiff, Grace. She enjoys reading psychological thrillers, crafting, and being outdoors with her family in her free time.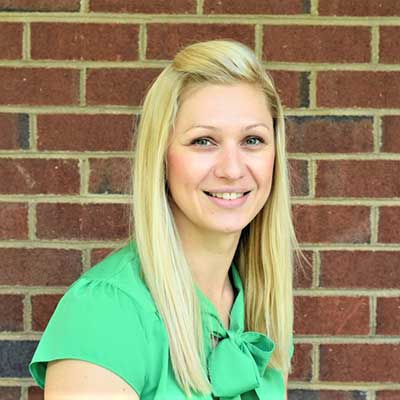 Lucia Liptakova
Business Administrator
Lucia moved to Williamsburg in 2004 after getting engaged to Jude earlier that year. While awaiting the translation of her college transcripts from her native Slovakia, she started helping with day to day operations at Colonial Center for Hearing.
Read Full Bio
When a sudden departure of a receptionist left them "in a pit", Lucia decided to continue her Business Finance studies online and take on the full breadth of responsibilities of managing the growing practice. Lucia's role in the practice has been adapting to its ever-changing needs. She continues to manage and support the daily operations of the clinic while staying up to date on licensing and compliance requirements. She spends many hours every week diligently working on insurance claims to ensure patients' hearing aid benefits are utilized to the full extent.
Lucia spends most of her time away from the office supporting her family's love for ice hockey. Practices and tournaments fill their weeknights and weekends and continue to bring the family together. When at home, she enjoys preparing nutritious meals for her little hockey players. Sports and fitness have been an essential part of her entire life. In recent years, she has been enjoying classes at the local Pure Barre studio. She also loves to ski, read books, plan home improvement projects and travel.